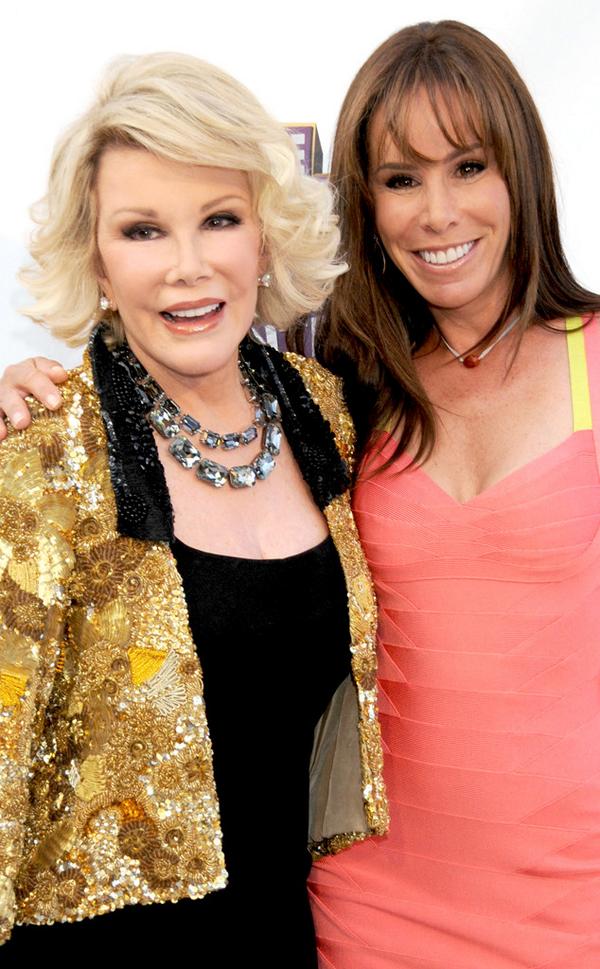 There was no debate: Joan Rivers and Melissa Rivers shared an incredible mother-daughter relationship.

That friendship and bond was especially visible Sunday morning when Melissa delivered a hilarious, yet moving, eulogy at her mother's funeral.

The speech, an excerpt from A Letter to My Mom and first published in The Hollywood Reporter, explains how Joan recently shacked up at Melissa's Los Angeles home in order to tape Fashion Police. As a result, Melissa shared some of the "issues" her mom had with the accommodations.

"While I'm glad to see you're socializing, you must refill the hot tub after your parties," Melissa explained to her mother. "In fact, you need to tone down the parties altogether. Imagine my surprise when I saw the photos you posted on Facebook of your friends frolicking topless in the hot tub."

When it comes to Joan taking care of her 13-year-old grandson, Cooper, Melissa also had a few concerns.

"It is not OK that you let him have chips and ice cream for dinner," she wrote. "It is not OK that you let him skip school to go to the movies. And it's really not OK that the movie was Last Tango in Paris."

And that time Joan took Cooper and his friends to a gentlemen's club? Don't get Melissa started!

"I accepted your rationale that it was an educational experience for the boys—and you are right, he is the most popular kid in school right now—but I'd prefer he not learn biology from those 'gentlemen' and their ladies, Bambi, Trixie and Kitten." Classic Joan!


Despite her houseguest's unique lifestyle, Melissa couldn't deny her deep love for her mom.
"I love having you live with me, and I am grateful for every minute Cooper and I have with you," she said at the funeral. "You are an inspiration. You are also 30 days late with the rent." Oops!
Melissa's eulogy wasn't the only message that left guests deeply touched. Deborah Norville also shared hilarious tales from her friendship with the comedian that lasted more than 25 years.
Whether visiting the Prince of Wales in Buckingham Palace or evacuating the Capitol during the scare at President Ronald Reagan's funeral, Joan always found the humor in every situation.
"To all of you here—and to those who loved Joan: Go out there and make people laugh. DO something. Say Something. Wear something that makes someone else chuckle," she explained. "Take a video, put it on Facebook with the hashtag: #JoanRiversChallenge"
She added, "Honor our friend by going out there and making someone laugh, so that the laughter Joan Rivers lived for—never dies." Well said, Deborah!